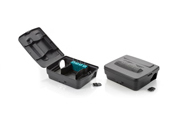 Ambush

The Most Advanced Low-Profile Bait Station
Fitting perfectly into tight baiting situations, the Protecta® EVO® AMBUSH™ is near to the ground, setting it up for the perfect surprise attack. Despite its low-profile, the EVO® AMBUSH™ still allows room for the TRAPPER® T-REX™ rat trap, for times when trapping is a necessary step in the IPM program.
The EVO® AMBUSH™ also comes with the celebrated features that all EVO®stations encompass: the same single lock for quick servicing and removable tray for easy cleaning.
Fast: Single locking mechanism provides quick servicing combined with a station that is strong enough to provide a high level of tamper-resistance. Contains 4 vertical bait positions (that accommodate 4-1oz. BLOX) with locking rods that won´t fall out during cleaning and a removable tray with rounded corners for quick station servicing.
Anchoring Options: The AMBUSH™ is compatible with the SIDEKICK® LOAD-N-LOCK™ base.
Tamper-Resistant for Kids & Dogs: The station can only be accessed once it has been opened with the key. The baffles keep bait and traps out of reach of children and non-target animals for peace of mind.
Versatile: Baiting or trapping, the AMBUSH™ offers multiple options to fit the needs of your customer. It can either hold a T-REX™ rat trap, MINI-REX™ mouse trap, or up to 4 bait BLOX.
Other Features:

Made from 100% recycled, heavy duty injection-molded plastic
Key location guide; symmetrical key self-orients into the lock
Bell barcode sticker is pre-installed & ready to use with your tracking software
Service label card can be zip tied to outside of station
Tomcat LP Bait Station
Tamper-Resistant "Low Profile" Bait Station
TOMCAT LP is a triangular shaped, rat-size bait station that fits in corners and flush along walls where rodents travel. Its "Low Profile" makes it ideal to use indoors under pallets and in other tight baiting locations. It measures 3 3/8" tall by 9" deep (approx. 76mm x 228mm).
Patented interior baffles lead rodents directly to the feeding receptacle in TOMCAT LP which can hold Bell's BLOX and Super-Size BLOX baits, tracking powders, liquid baits, cereal baits and place pacs. BLOX fit on horizontal and vertical bait securing rods that help keep bait securely in the station.
This tamper-resistant bait station locks automatically when closed and unlocks with a special 2-prong key that also opens other Bell bait stations. A one-piece liner makes cleaning and rebaiting easy. Service time is reduced because of its easy accessibility.
TOMCAT LP is available in black to fit in any baiting environment.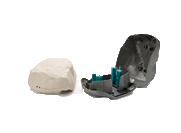 Tomcat Protecta Landscape Looks Like A Rock, Acts Like A Bait Station
Looking every bit like a rock, PROTECTA Landscape is a rat-size bait station designed to blend in with outdoor environment. Its realistic colors - sandstone and granite - and naturally textured surface give this bait station the authentic look of a rock.
When closed, tamper-resistant PROTECTA Landscape locks automatically and opens with the standard two-prong PROTECTA key. Servicing the station is easy with the built-in service record card holder, one-piece liner and its side-opening design.
Four vertical bait securing rods hold eight 15g, 20g or 28g/1 oz. BLOX securely in the station. It also holds a TRAPPER T-Rex Rat Snap Trap. This station is made of heavy-duty, injection-molded plastic with a durable hinge built to withstand frequent servicing.
PROTECTA Landscape delivers superior durability that PMPs have come to expect in Bell's tamper-resistant bait stations.


Sidekick Economical Alternative to Non-Tamper-Resistant Bait Stations
PROTECTA Sidekick is an economical way to upgrade from using non-tamper-resistant bait stations to the security and high quality of tamper-resistance. It locks when closed and unlocks with Bell's two-prong PROTECTA key.
Constructed from impact-resistant, injection-molded plastic, Sidekick holds up well in temperature extremes.
In the field, it works as both a bait station and a monitoring station. Vertical bait securing rods hold Bell's BLOX securely in the station. As a monitoring station, it holds TRAPPER T-Rex Rat Snap Trap which captures rats as they enter the station.
Easy-to-use Sidekick opens to the side for fast, convenient servicing, even when the station is secured. Its interior corners are rounded for easy cleaning, and a built-in card slot holds the PROTECTA service card.
Sidekick measures 9 1/2" x 8 3/4" with a height of 4 1/2" (approx. 241mm x 222mm x 114mm), ideal for fitting into tight baiting locations. Yet, Sidekick can hold up to two pounds or almost 1 kg of bait.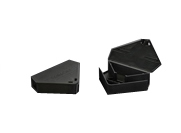 Tomcat RTU
Triangular-Shaped Mouse Bait Station
Mouse-size TOMCAT RTU, a staple of the industry since 1991, holds 1 oz., 28g, 20g and 15g BLOX baits. Triangular-shaped with angled entry holes, TOMCAT RTU fits flush against a wall or in a corner where mice travel. Mice do not hesitate to enter and once they're inside, the station's interior baffles lead them to the bait.
Compact TOMCAT RTU fits in tight baiting places under pallets, in cupboards or behind appliances. It is made of heavy-duty, injection-molded plastic to withstand tough baiting situations.
This tamper-resistant bait station automatically locks when closed, keeping bait away from children and non-target animals. Yet, a simple motion with Bell's 2-prong key unlocks the device, reducing service time by as much as 75 percent. Service labels are included in each case.

Baiters
Non-Tamper-Resistant Devices to Hold Bait RODENT BAITERS and BAIT TRAYS are an economical way to place bait in situations that do not require tamper-resistant bait stations.
RODENT BAITERS hold dry and liquid bait and tracking powder, and fit flush against the wall allowing easy entry for rodents. RODENT BAITERS for rats have an automatic lock back and nylon lock-tie for the front. RODENT BAITERS for mice feature a one-piece design that snaps together and measures 5" x 3 1/2" x 1 3/4" (127mm x 90mm x 44mm).
Bell's economical 4 oz./112g BAIT TRAY holds either liquid or dry bait. Manufactured of black polystyrene, this lightweight, yet sturdy, BAIT TRAY measures 4" x 4" x 2 1/2" (102mm x 102mm x 63mm).